A Waterwise, Easy Alternative to Vertical Gardens: Reindeer Moss
This nifty, relatively new product may well be my favourite of our February Greenery series and I have to admit that part of the attraction is definitively in the name.
Reindeer Moss is a fungus or lichen product (not, in fact moss, but I'm guessing it sounded better than Reindeer Fungus) sold locally by Moss Co. It's naturally found in Northern Scandinavia, Lapland (I know, what's not to like about this product?) and forms part of the reindeers' diet. Don't worry! it's responsibly removed, and for the most part actually cultivated, under strict conservationist and agricultural rules. So none of Father Christmas' furry friends will go without the nourishment they need.
Reindeer Moss is sold by Moss Co. mainly as wall panels, or loose moss, which can be used for a number of decorative purposes such as table decorations or crafty DIY projects where different shapes and objects are covered in the moss.
Using Reindeer Moss as a Vertical Wall
We're most interested however in the 350 mm x 550 mm felt wall panels, which are stuck onto a thin, damp treated mounting board and installed on just about any flat surface in your home.
Vertical or garden walls have been around for a while, but they've shot up in popularity in South Africa since we've refocussed our attention on living in harmony with nature, saving space and more importantly, saving water.
In addition to being an excellent way to introduce Pantone's colour of the year, Greenery, into your home decor, it also aligns with current design and lifestyle philosophy of Authenticity: living sustainably using natural materials and getting back to a simpler, hunter-gatherer way of life, often characterised today by the Scandinavian interior design style. These Scandinavian moss walls are one of the few places where typical Scandi decor gets a splash of colour.
Advantages of Reindeer Moss
#1 Comes in different colours
Once the lechin (naturally grey-white in colour) is collected, it gets soaked in natural colour pigment and then dipped in a saline solution for preservation. This both stops it from growing and dying.
#2 Waterwise
Reindeer moss does not need to be watered. It simply needs to be sprayed or misted with water once a month or so, when you see the moss starts to dry. The misting frequency will depend on the humidity of the area your moss is used - both geographically and in the home.
#3 Low Maintenance
As it is not growing, it will also not die or be susceptible to pests and bugs. Even after having dried out, it simply needs to be sprayed with water to rejuvenate it.
#4 Easy installation
As it doesn't need a steady supply of water, and therefore doesn't pose a damp risk, it's much easier to install than a vertical garden.
#5 Brings the outdoors in
There are a great number of advantages to having a sustainable, green piece of outdoors inside your home or office.
#6 Organic and eco friendly
Naturally, this product is completely natural and as it is no longer growing, poses no risk to the environment and local fauna. According to Moss Co. it's also non-toxic and safe to use in children's rooms.
#7 Softens modern surfaces
The popular use of metal, glass and stone in homes can sometimes get a little clinical. Adding soft greenery can go a long way in softening these hard surfaces.
#8 Versatile
Not only can it be used to cover walls and objects, but you can also use it underneath glass coffee tables, behind glass counters and in just about any way you can think of.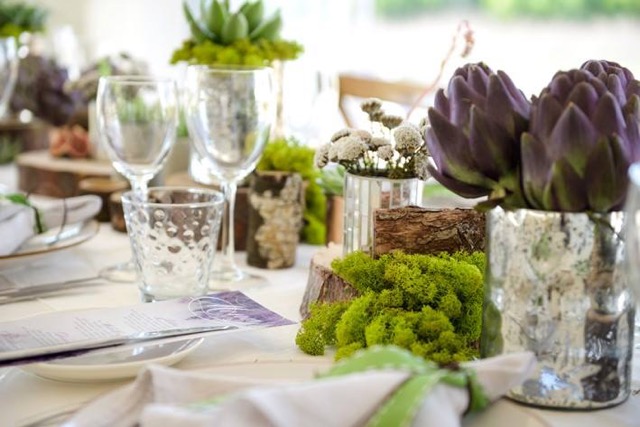 #9 Creates a cooling effect
On hot days the moisture evaporates from the moss, creating a cooling effect.
#10 The best natural sound insulator
This means it can be used in studios, children's play rooms, large spaces with problematic acoustics or noisy staircases.
Moss Co. also sell complete wall panels made up of a mix of wall plants and Reindeer Moss. They do installations, but it's really simple to DIY it as well.
Let us know if you'd like some help deciding where and how you can use this product in your own home.